Erasmus + Forward Looking Cooperation Projects
Forward Looking Projects aim to foster innovation, creativity and participation, as well as social entrepreneurship in different fields of education and training, within sectors or across sectors and disciplines.
They are large-scale projects that aim to identify, develop, test and/or assess innovative (policy) approaches that have the potential of becoming mainstreamed, thus improving education and training systems. They will support forward-looking ideas responding to key European priorities and that have the potential of becoming mainstreamed and giving input for improving education, training and youth systems, as well as to bring a substantial innovative effect in terms of methods and practices to all types of learning and active participation settings for Europe's social cohesion."
In 2022, there are six priorities that are clustered into three separate lots.
Supporting high quality and inclusive digital education, in line with the Digital Education Action Plan
Supporting education and training systems to adapt for the green transition
Supporting the Pact for Skills
Structures and mechanisms for applied research in VET
Green Skills in the VET sector
Upskilling pathways: new opportunities for adults.
THEI2.0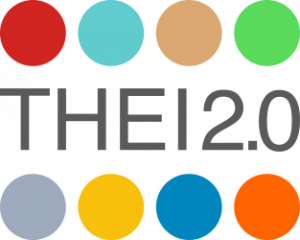 With the title Towards HEInnovate 2.0: From Assessment to Action, THEI2.0 Project relies on HEInnovate with, as a major goal, the mission of supporting and enabling its future users in acting towards more innovative and entrepreneurial Higher Education Institutions (HEI).
To accomplish this, THEI2.0 offers innovative tools that provide higher education institutions with powerful, tailored and contextualized suggestions for actions within the eight dimensions of HEInnovate. These actions, along with a roadmap of implementation maximising impact for future, were carefully chosen from successful, well-established and previously tested programmes coming from a number of international Institutions considered as worldwide references of good practices in entrepreneurship and entrepreneurial activities.
The recommendations for actions and implementation roadmaps are presented in the form of cards that are suitably chosen according to the entrepreneurial maturity of the Higher Education Institution that is willing to improve itself. This maturity level (the "THEI2.0 Profile") represents an innovative measurement system entirely based on the HEInnovate results for the Institution. Furthermore, and in order to recognize the effort in acting towards more innovative and entrepreneurial higher education institutions, a digital badges system (bronze, silver, gold) concept was developed, acting not only as a reward system but also as an indicator of the potential for growth (and how to attain it) for Higher Education Institutions.
Having the mission of supporting HEIs and, most importantly, their people towards more innovative and entrepreneurial Institutions, THEI2.0 Project therefore offers a THEI2.0 toolkit with three resources:
THEI2.0 tool, to support users in translating HEInnovate results into actionable programmes within their institutions.
THEI2.0 workshops, to guide users in their journey from the assessment phase using HEInnovate towards the identification of the entrepreneurial and innovative maturity of HEIs, at the same time defining action plans that help HEIs in pursuing their goals.
THEI2.0 Digital Badges System, a concept that recognize and reward THEI2.0 users' effort in promoting and acting towards more innovative and entrepreneurial HEIs.
Website: http://www.thei2.eu/
BeyondScale

BeyondScale is one of the Forward-looking projects to create a pan-European community of practice, that will share, and document emerging good practices of partner higher education institutions based on their entrepreneurial transformation. The second objective of the BeyondScale project is to further develop the usefulness of the HEInnovate tool. The project includes 10 partners from 5 European countries: Austria, Bulgaria, Netherlands, Ireland, and Portugal. One of the main assets of the BeyondScale project is the Buddy System, in which partners engage in peer-learning, exchanging experiences, and discussing plans. Our partner higher education institutions have been organised as a buddy team throughout the project to strengthen their organisational capacity and entrepreneurial transformation.
Within the BeyondScale project, the HEInnovate tool is deployed beyond its self-assessment capacity through a structured workshop format, known as Value Proposition Workshop Design. The HEInnovate dimensions are used to drive entrepreneurial and innovative change across a range of inbound and outbound education and engagement activities in higher education institutions (HEIs) with relevant stakeholders. From the BeyondScale perspective, the inbound activity serves to support HEI's institutional development process and organisational capacity; therefore, it targets internal stakeholders (administrative staff, academics, researchers, students). As for the outbound activity, it aims to strengthen HEI's wider regional and societal engagement, thus it targets external stakeholders (students, employers, social enterprises, business, NGOs).
For more information check out the website: www.beyondscale.eu
Mapping Regional Engagement Activities of European Universities of Applied Sciences - UASiMAP

Higher Education Institutions play a key role in regional development. Universities of Applied Sciences (UAS), are more integrated into the local economy and social system compared to the research focused universities.  Therefore, UAS can enhance quite significant results and facilitate a long-lasting impact on the regional ecosystem. The majority of UAS are active actors in their territorial and neighbouring areas.
UASiMAP project is aiming to develop a self-reflection tool to evaluate the level of regional engagement of UAS. The self-evaluation tool will serve UAS and enable the assessment of the current situation of regional engagement and find unused capacities and possibilities to improve their engagement. An assessment will reveal the possibilities to revise and update their strategies as well as the impact on regional development. UASiMAP self-reflection tool will contain tutorials and a collection of good practice of experienced European Universities of Applied Sciences.
UASiMAP project partners will prepare the webinar to present and train HEI representatives how self-reflection tool can be used. Project partners will draft the policy recommendations for EU and National/Regional authorities to assure the impact of this project outcomes.
Project website: https://www.uasimap.eu/
RE-ACT- Self-reflection Tools for Smart Universities Acting Regionally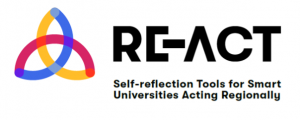 REACT is a Forward-Looking Cooperation Project, funded by the Erasmus+ programme that aims to exploit the potential of Higher Education Institutions (HEIs) to participate in the design and implementation of RIS3 (research and innovation strategies for smart specialisation). Moreover, the project aims to understand how existing self-reflection tools, particularly HEInnovate, could support HEIs in this endeavour. Therefore, RE-ACT will develop, test and scale-up a new tool based on HEInnovate - HEInnovate for RIS3 -, aiming at promoting HEIs to rethink and reposition their strategies, structures and actions towards regional development, fostering collaboration among the quadruple helix.
Project website: http://ris3heinnovate.eu/